2009 News Archive
Saturday, July 18
Congratulations to the 2009 District 27 and PA Section 8 Senior Softball Champs!
The RWLL Senior Softball team won all three games in the District 27 tournament to capture the championship. They defeated Devon-Strafford by a score of 12-5, Pottstown 8-2 and Pottstown again in the finals coming from behind to win by a score of 2-1.
In the Section 8 tournament the girls defeated Levitown-Pacific by a score of 11-1 to advance to the States in Pittsburgh. Click the header of this item to see an article and another picture of the girls in the Main Line Media News!
Pictured below after their District 27 win are top row: Julia Gramiak, DA Hazan, Jamie Gorson, Allie Bare, Breanna Hockersmith, Emma Nicosia, Celia Parkin and Jackie Price.
Bottom row: Becky Maz, Caitlin Sullivan and Brittany Bentz.
Missing from the picture is Devon Walker and Katie Fitton

Monday, July 20
Congratulations to the 2009 District 27 Junior Softball Champs!
The Radnor Wayne Little League Jrs All Star Tournament Team won the District 27 softball title by defeating a combined team from Chester Valley and Great Valley Little Leagues 2-1. Kelsey McCue pitched 7 strong innings, allowing only four hits, and drove in both runs with a two out single in the fourth inning. The RWLL Jrs, comprised of 13 and 14 yr olds, combined outstanding defense with timely hitting the whole tournament as they defeated the same CV/GV team 4-1 and Berwyn Paoli 9-0 earlier in the tournament. RWLL will begin Sectional play this Friday, July 25, in Hatboro, PA.
Pitcured: Kyla Crombie, Siobhan Osborne, Colby Walker, Alexa Royle, Isabel Schaefer, Erin Reid, Blake Massaro, Kelsey McCue and Tori Viggiano. Coaches Chris Massaro, John Schaefer and Lenn Margolis.
Missing from the photo are Ali Birtwistle, Lili Evans and Lindsay Price.

Wednesday, July 22
Congratulations to girls 10-11 District 27 softball runners up!
The Radnor Wayne Little League 10-11 year old All Star Tournament Team captured District 27 Runner Up Honors. The girls lost 10-9 in the district final to Exton, after a memorable game. Through an impressive rally the girls overcame an 8-2 deficit and tied the game 9-9, before weather caused the game to be continued at a later date. In the continuation game, Radnor was defeated 10-9 in the 7th inning.
Pictured are: Noelle Zimmerman, Kerry Hamill, Amanda Davis, Emmy Steele, Fallon Quinn, Olivia Royle, Kristin Hamill, Megan McGrath, Sara Osman, Kayce McCue, and Chloe Allen. Coaches Dennis Steele, Joe Hamill and Team Manager/Head Coach Dave McGrath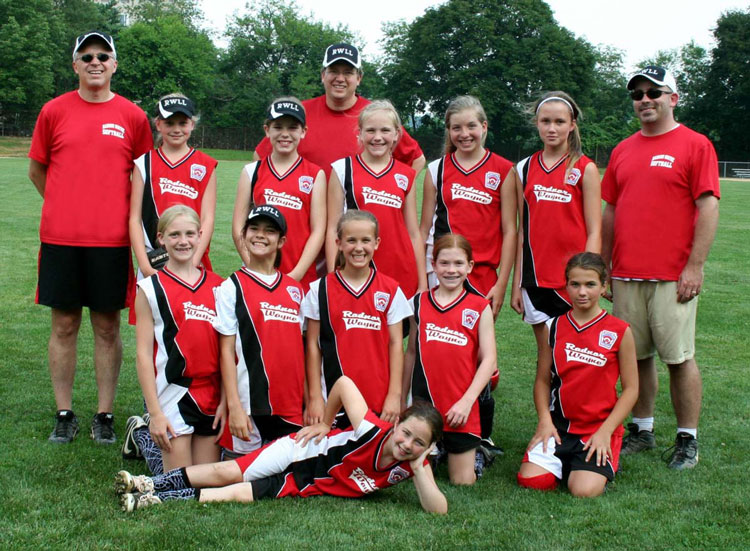 Wednesday, July 29
Congratulations to the 2009 Section 8 Junior Softball Champs!
The RWLL Softball Jrs (14U) team won the PA Section 8 title on July 26 in convincing fashion, dominating Morrisville 16-1. RWLL joined it's Srs (16U) team in giving RWLL two Section 8 softball titles and sending two teams onto States. RWLL pounded 18 hits, with Kyla Crombie (3 runs, 1 RBI), Kelsey McCue (1 run, 4 RBIs), Blake Massaro (2 runs) and Isabel Schaefer (2 runs) each contributing three hits. Lindsay Price added a single and a triple with 3 RBIs while Siobhan Osborne was 1 for 3 with 2 runs and an RBI. RWLL scored five runs in the first inning, capped by Colby Walker's two out, 2 run single, and then put the game away with ten runs in the fourth and fifth innings. Ali Birtwistle helped spark the team with some aggressive baserunning, and everybody in the lineup had a hit or scored a run!
The Morrisville team, which had won the Sections two years ago as 12s, opened this year's Sections with a strong 11-1 win over Upper Moreland and was a confident team coming into RWLL's opener last Friday night. RWLL persevered through three lightning delays before recording an 8-2 victory. In this game, leadoff hitter Osborne jump started the offense with three hits (2 runs, RBI) including a double while Crombie was 4 for 4 with two runs and an RBI. Price had a single and double along with 2 RBIs and Alexa Royle smashed a triple and scored a run. RWLL jumped out to a 3-0 lead in the first inning, also capped with a big two out RBI single by Erin Reid.
McCue and Schaefer were solid in handling the pitching duties through the two games, striking out 13 batters and allowing only 8 hits combined over 12 total innings. RWLL continued its outstanding defensive play, led by catcher Alexa Royle gunning out four baserunners over the two games.
RWLL is now 5-0 through Districts and Sections, outscoring it's opponents 39-5! The girls move on to the PA Jrs. State tournament which will be held near Wilkes Barre, PA from 7/31 through 8/4.
Picture: Erin Reid and Siobhan Osborne, Alexa Royle, Colby Walker, Lindsay Price, Kyla Crombie, Isabel Schaefer, Kelsey McCue, Ali Birtwistle and Blake Massaro.
Coaches Chris Massaro, Lenn Margolis and John Schaefer.